I was invited to conduct a two-week virtual Design Workshop at National Institute of Design, Ahmedabad for B.Des. 7th sem students.
My workshop focused on an introduction to Data Visualization, Visual Encoding, Data Storytelling & Cartography.
Hometown Schematic Map
One of the exercises done in the workshop was to create a schematic map of their hometown, focused on a particular audience & purpose for this map. Some of the selected maps are shared below with their process, and the complete discussion & references are available on this Github issue.
Process followed:
Define Scale, Audience & Purpose
Sketch your mental model
Trace relevant aspects
Abstraction: Grids, metaphors & geometric shapes
Simplification vs Minimal details
Elements of the city
Balance visual hierarchy
Focus on design details
Share for feedback & iteration!
Map of Kolkata's Cultural Hotspots & Tourist Attractions by Sarthok Mazumder
Sarthok chose Kolkata — the city he grew up in — with a focus on renowned & underrated attractions for bong enthusiasts and tourists. He extensively documented his process, feedback & iterations on Behance.

The final map features a pot like abstract boundary (highlighting Kolkata as a melting pot of cultures), bold color scheme to focus on the points of interest (PoI), a locator map of Kolkata as an inset, varying type hierarchy for PoI, major roads, bridges, metro, areas & river.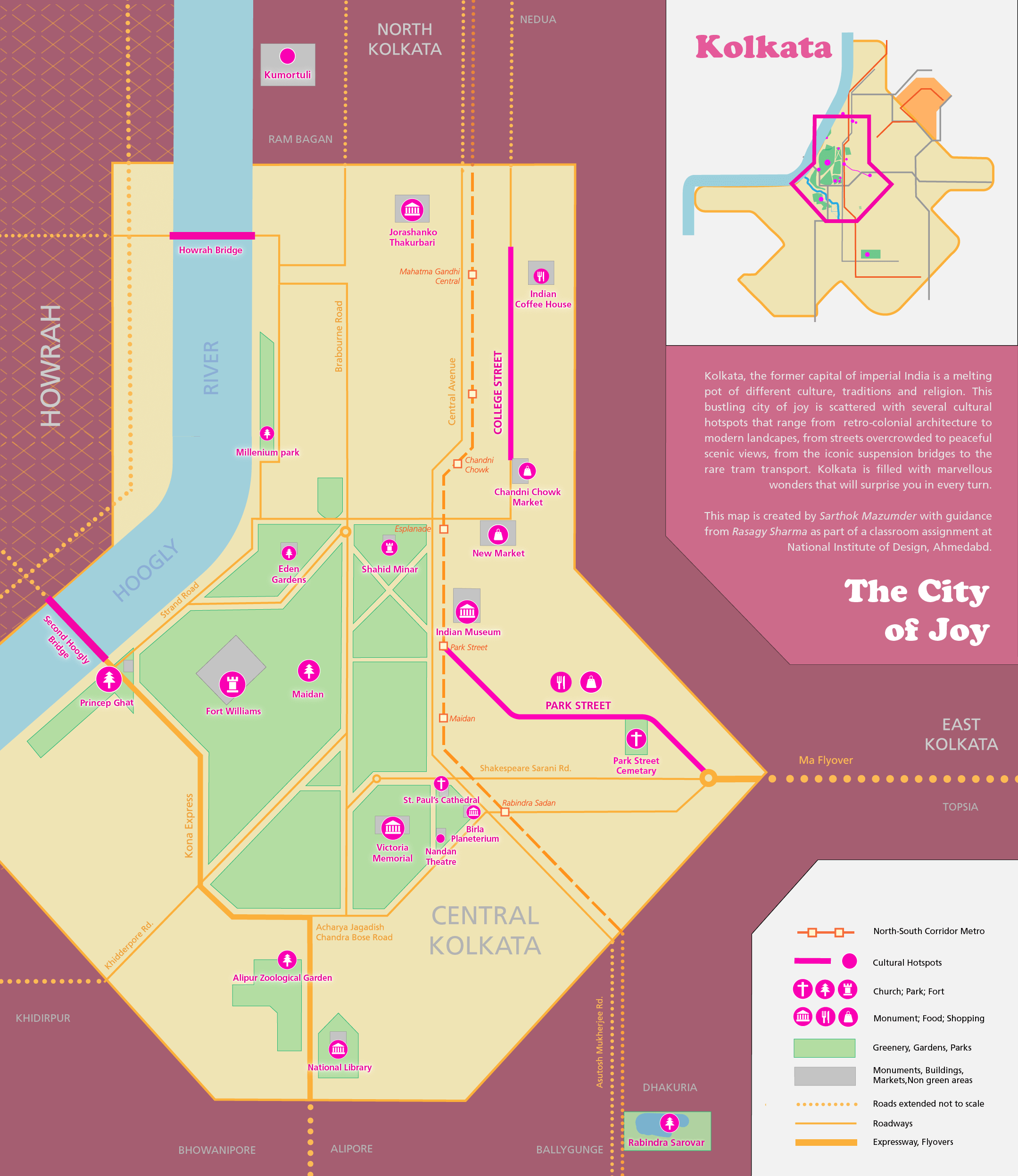 Map of Pune's Heritage by Srishti Mitra
Srishti has lived in Pune her whole life, and made a map that highlighted the rich history of Pune & a guide to Maratha & British heritage sites. She did several iterations on the design details that are documented on Github.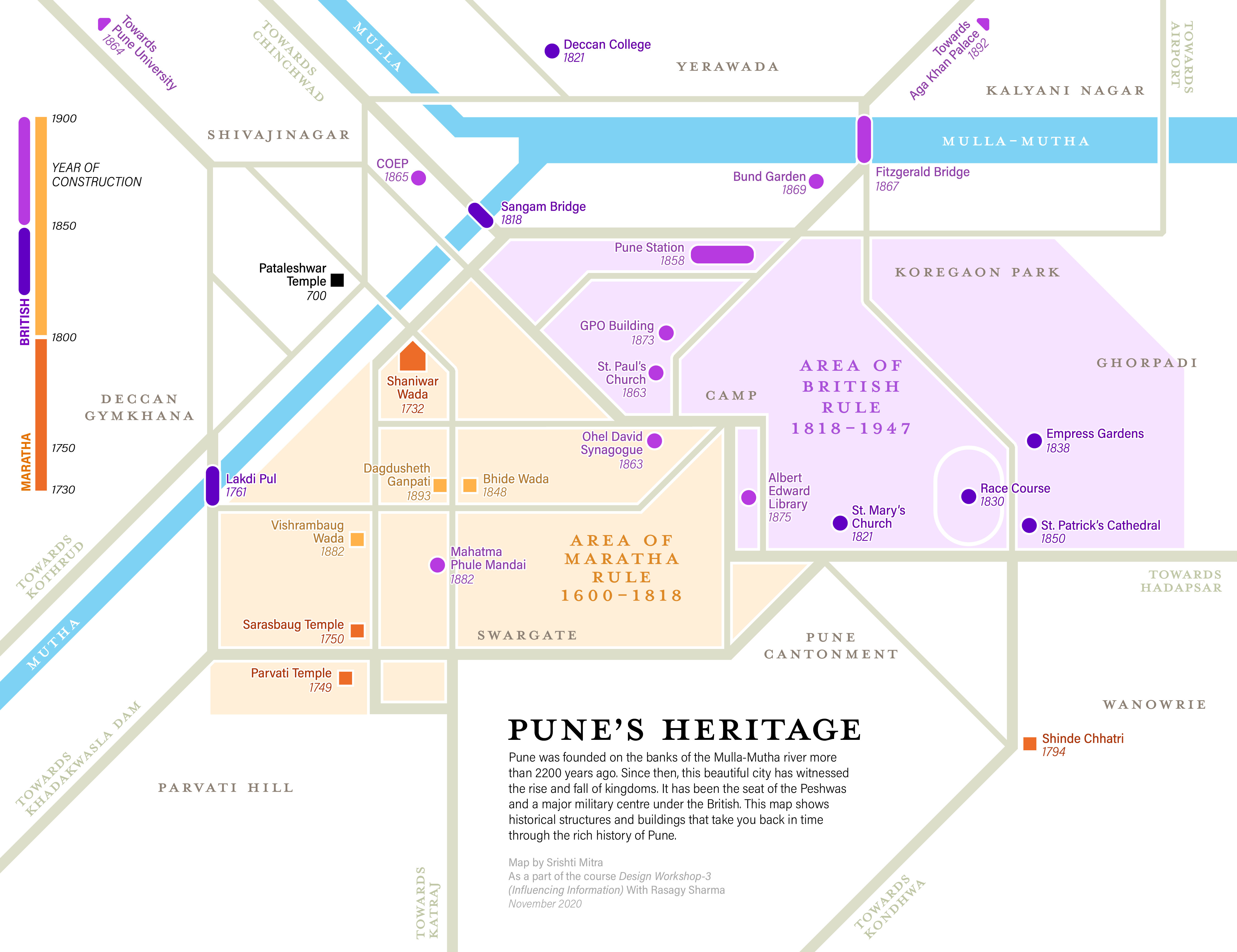 Map of Delhi's Street Shopping places by Paridhi Yadav
Paridhi worked on mapping 10 budget shopping places in New Delhi. She documented her process on Medium.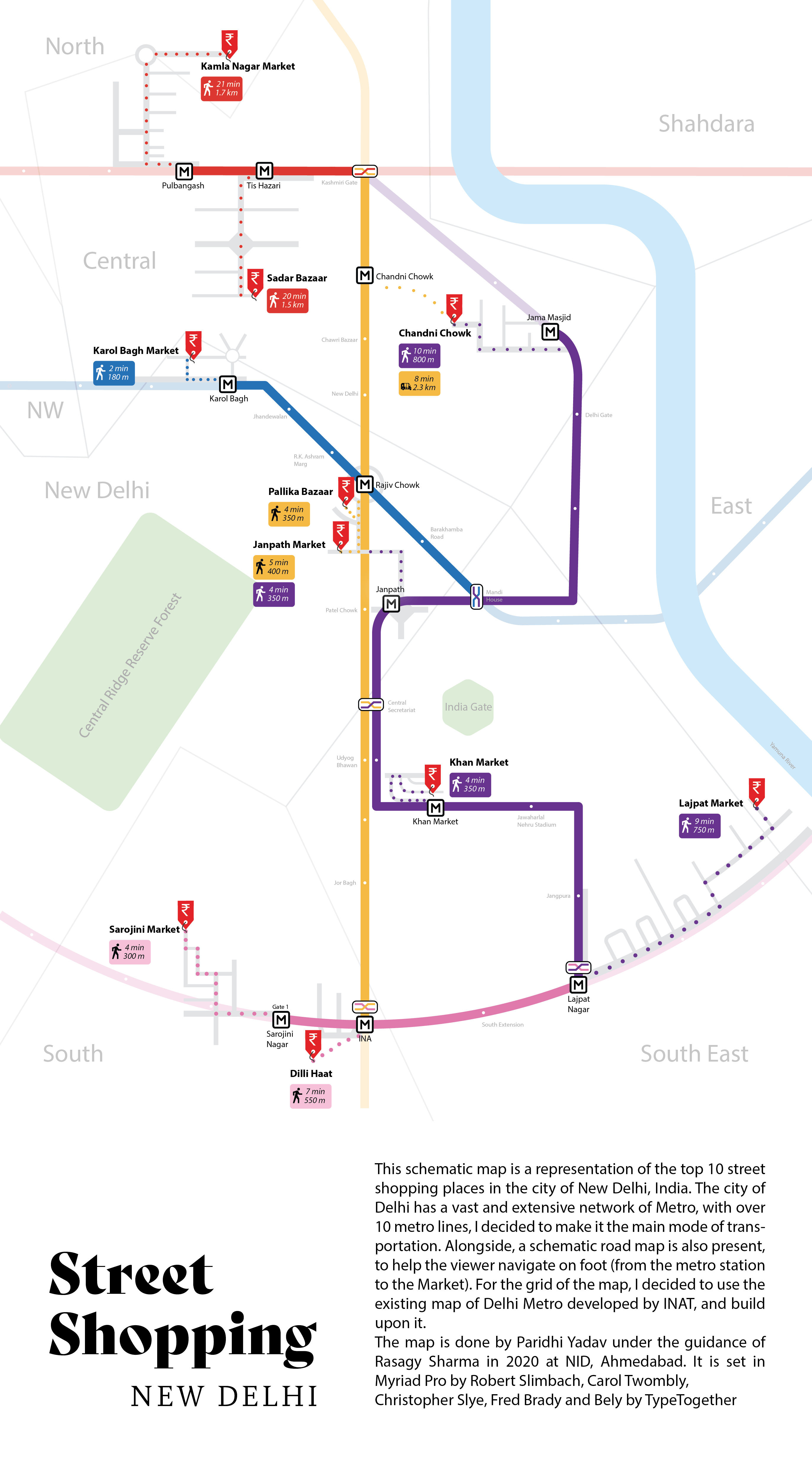 Map of Thane — City of Lakes by Namaha Shetty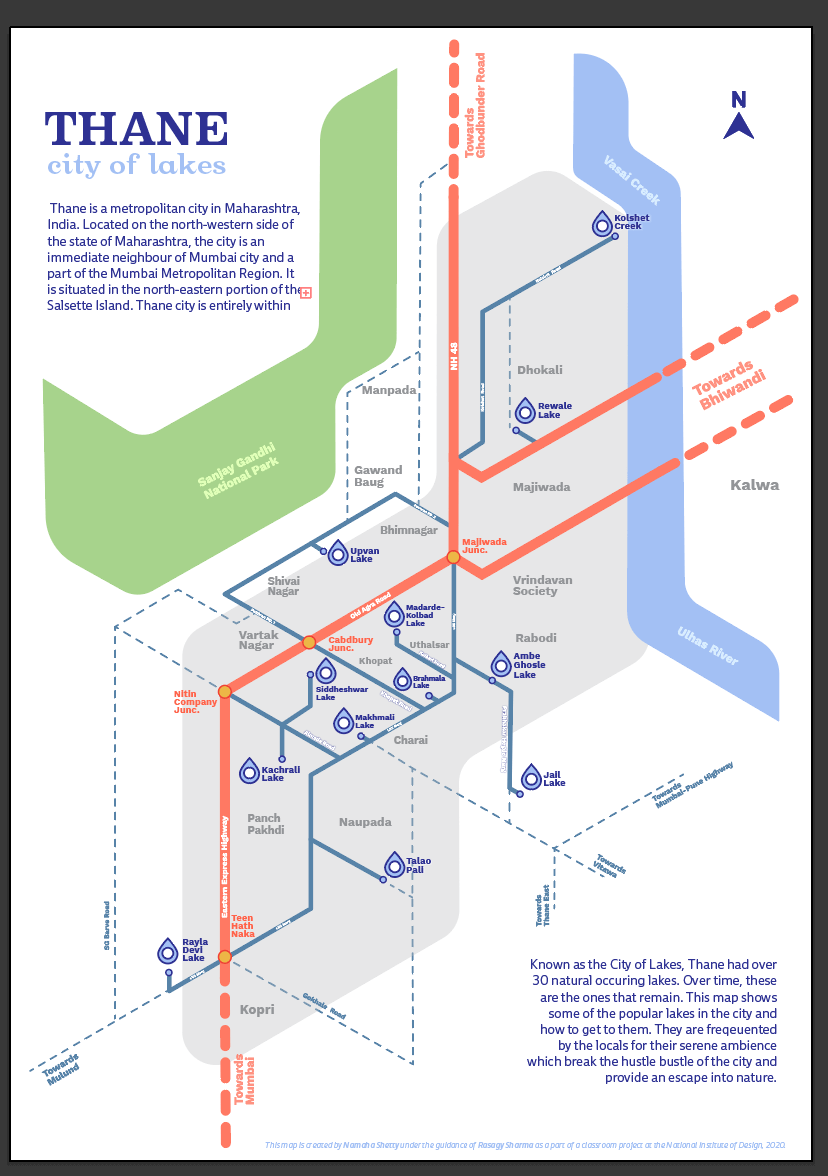 Map of Safe Street Food Options in West Nagpur by Purvanshi Shende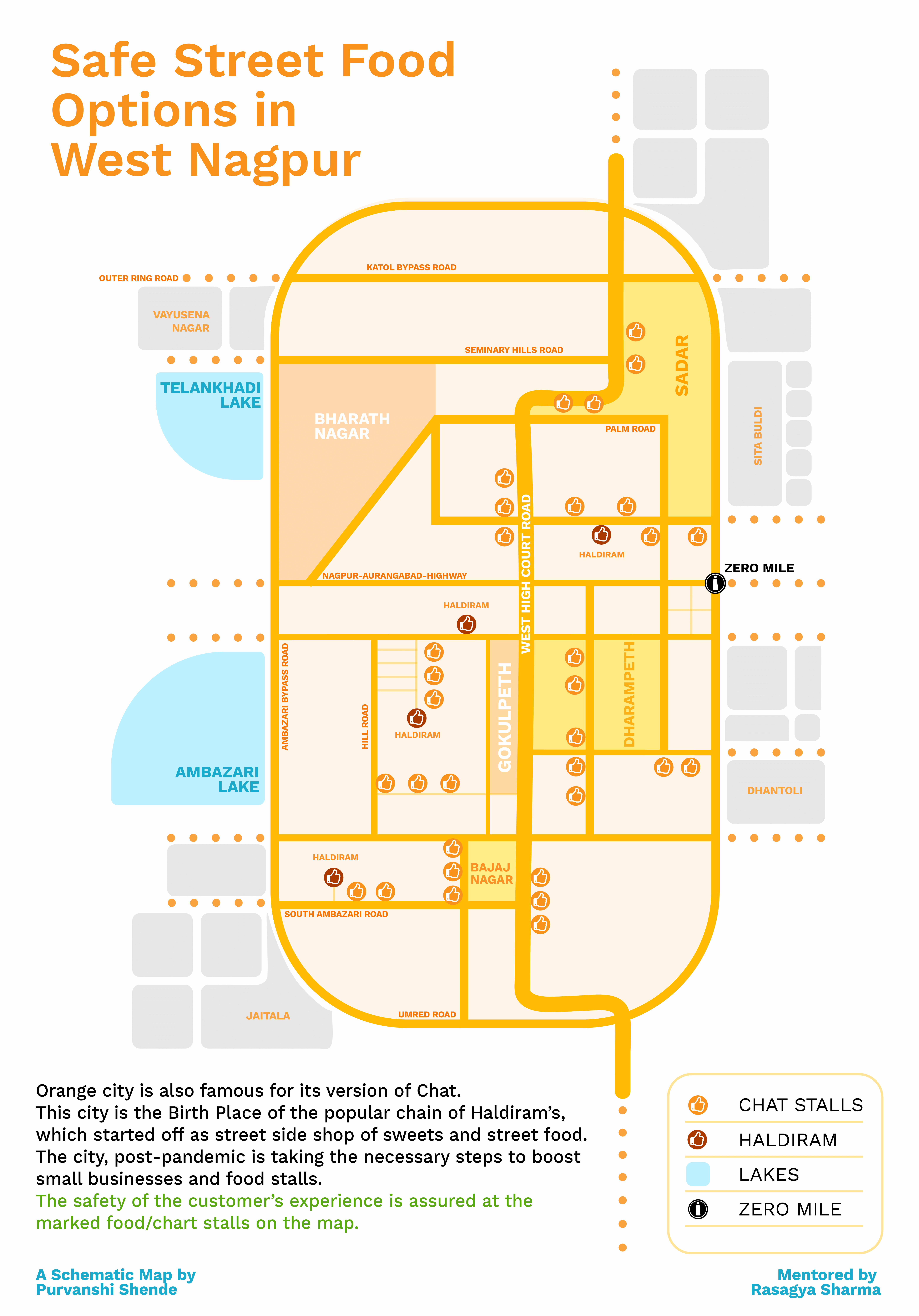 Map of Gwalior Fort by Vivek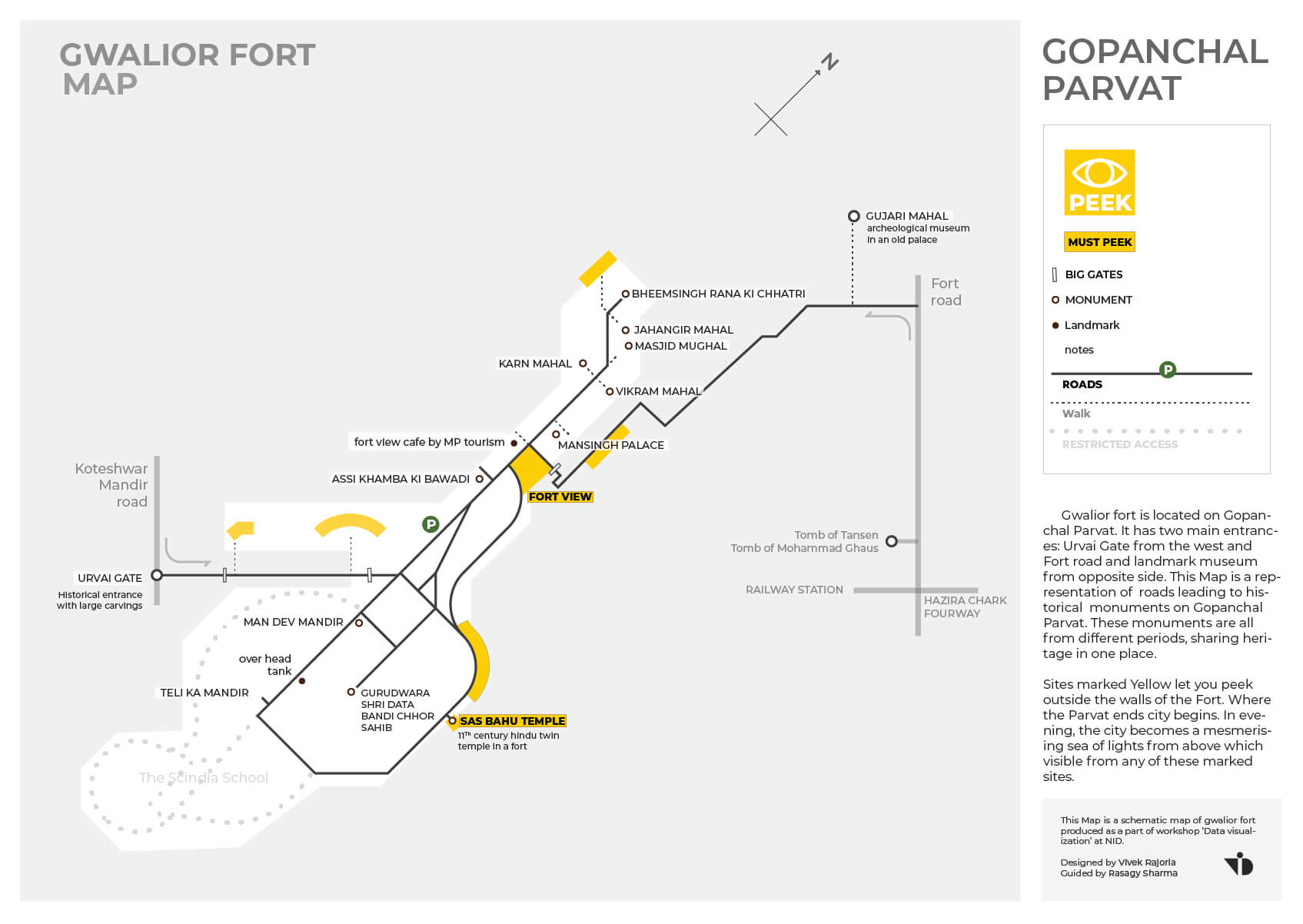 Reflections
This was my first time teaching students at the Ahmedabad campus. While it came with all the issues of teaching virtually, I found the students very motivated, and their visual aesthetics very inspiring. It was amazing to teach students who cared about the little design details, and went the extra mile to refine their final designs.
Balancing this with my full-time work meant that I only took out few hours in the morning to teach. This made some of the review cycles much slower, with students waiting for feedback on small improvements till the next day.
This also meant that they struggled with taking out time for their second assignment for MakeOverMonday, with many still completing this map in their first week. This was a good reminder to slow down the pace during virtual classes.
Hope to drop by NID Paldi one day for conducting this design workshop in person, and enjoy doing this in a studio setting with faster feedback loops.
---
PS: This exercise & the materials used are under CC By-NC-ND. Students own a copyright on their work, please seek their permission if you want to use their work for anything more than reference/inspiration. Read more about the license.