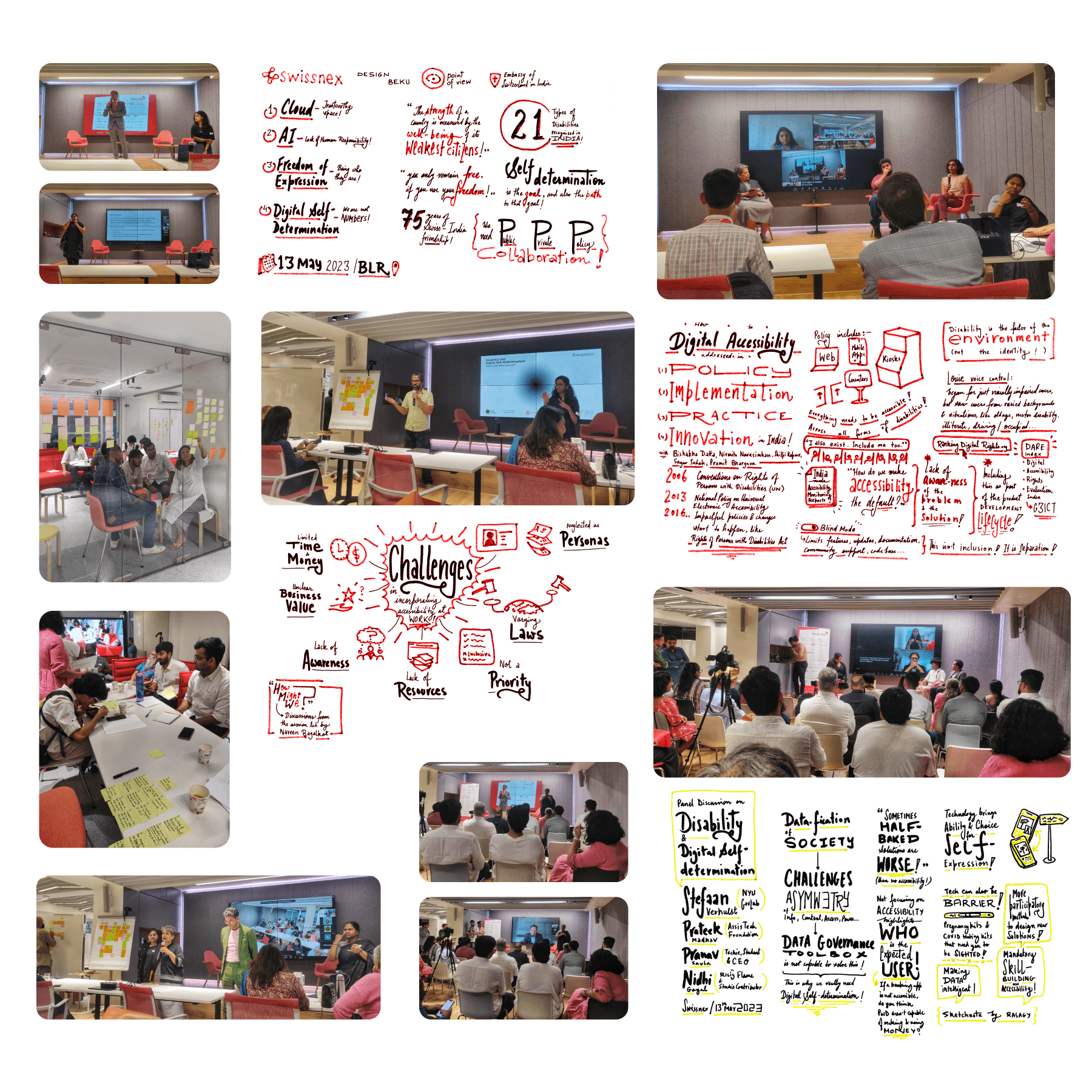 As the world transforms through abundance of data & digital technology, how do we re-imagine ourselves in the digital world?
I was invited to one of the studio sessions facilitated by Point of View & Design Beku, in partnership with Swissnex in India. The focus of this studio session was on Digital Self-Determination through the lens of disability, and it was the 4th & final studio in a series of sessions across Mumbai, Delhi & Bangalore.
I loved the participatory approach and the opportunity to hear lived experiences & perspectives of several Persons with Disabilities (PwD). Here are some sketchnotes from the day-long event.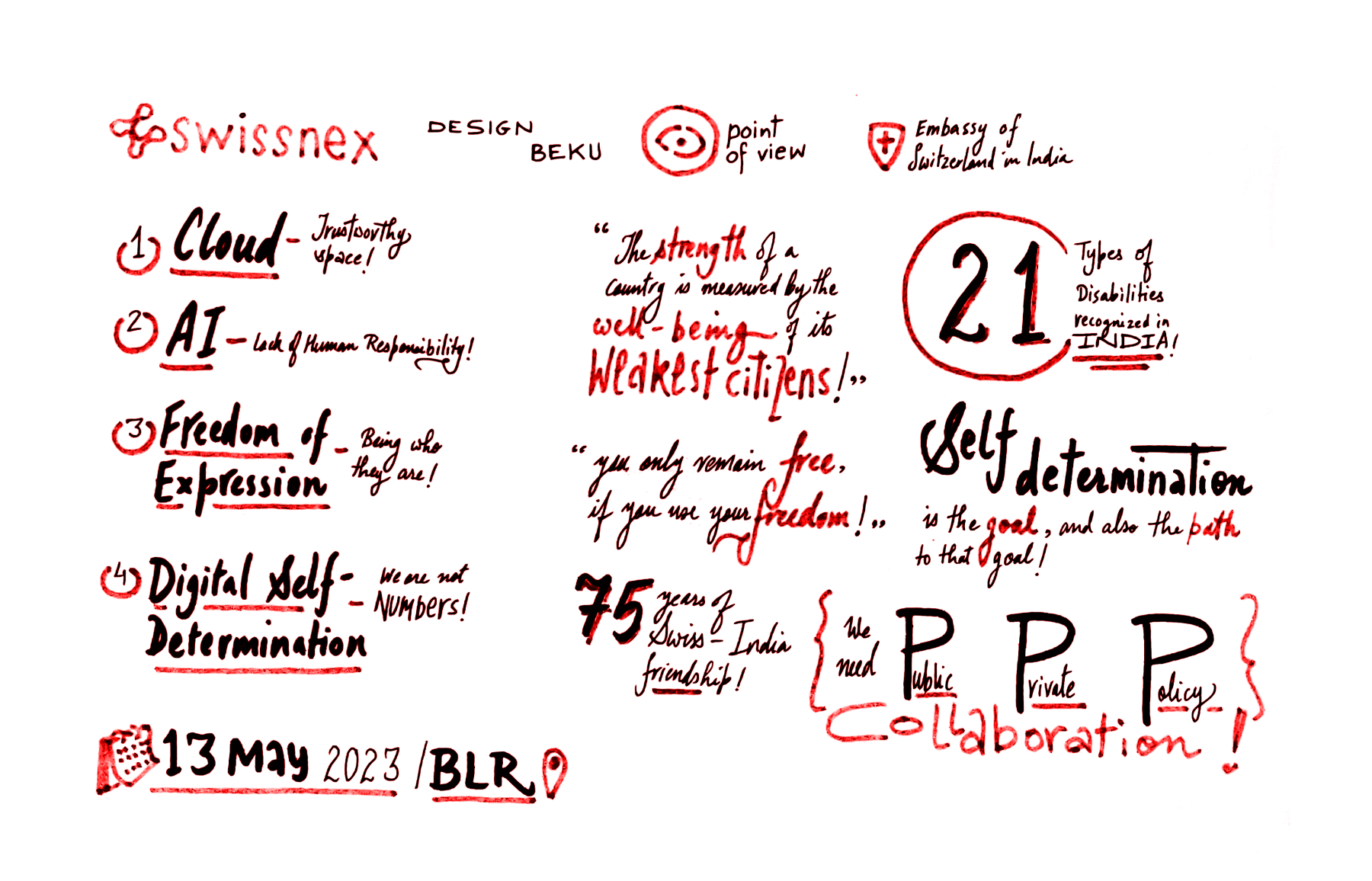 We started with a welcome by Olivier Fink from Swiss Embassy, who highlighted that Digital Self-Determination is one of their 4 key areas of focus.
The strength of a country is measured by the well-being of its weakest citizen!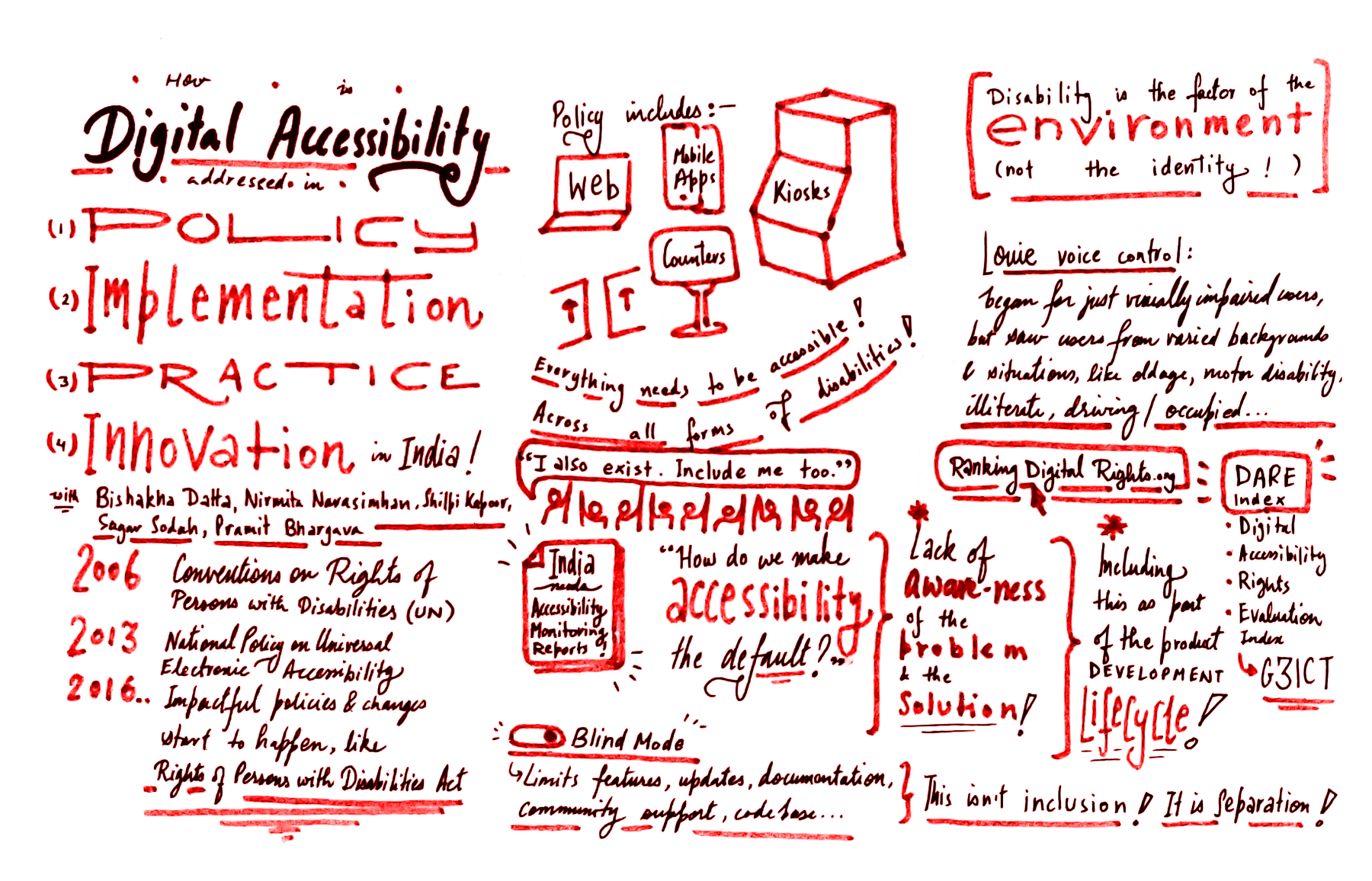 We kicked off with an enlightening panel on how Digital Accessibility is addressed across Policy, Implementation, Practice & Innovation. This was anchored by Bishakha, with Nirmita, Shilpi, Sagar & Pramit. It was a deep introduction to different global & national policies, and how we're still far away from making Accessibility the default for digital platforms. There was an scathing critique of separating UI (like a Blind Mode) with different features in an app, which leads to more separation than inclusion of PwD.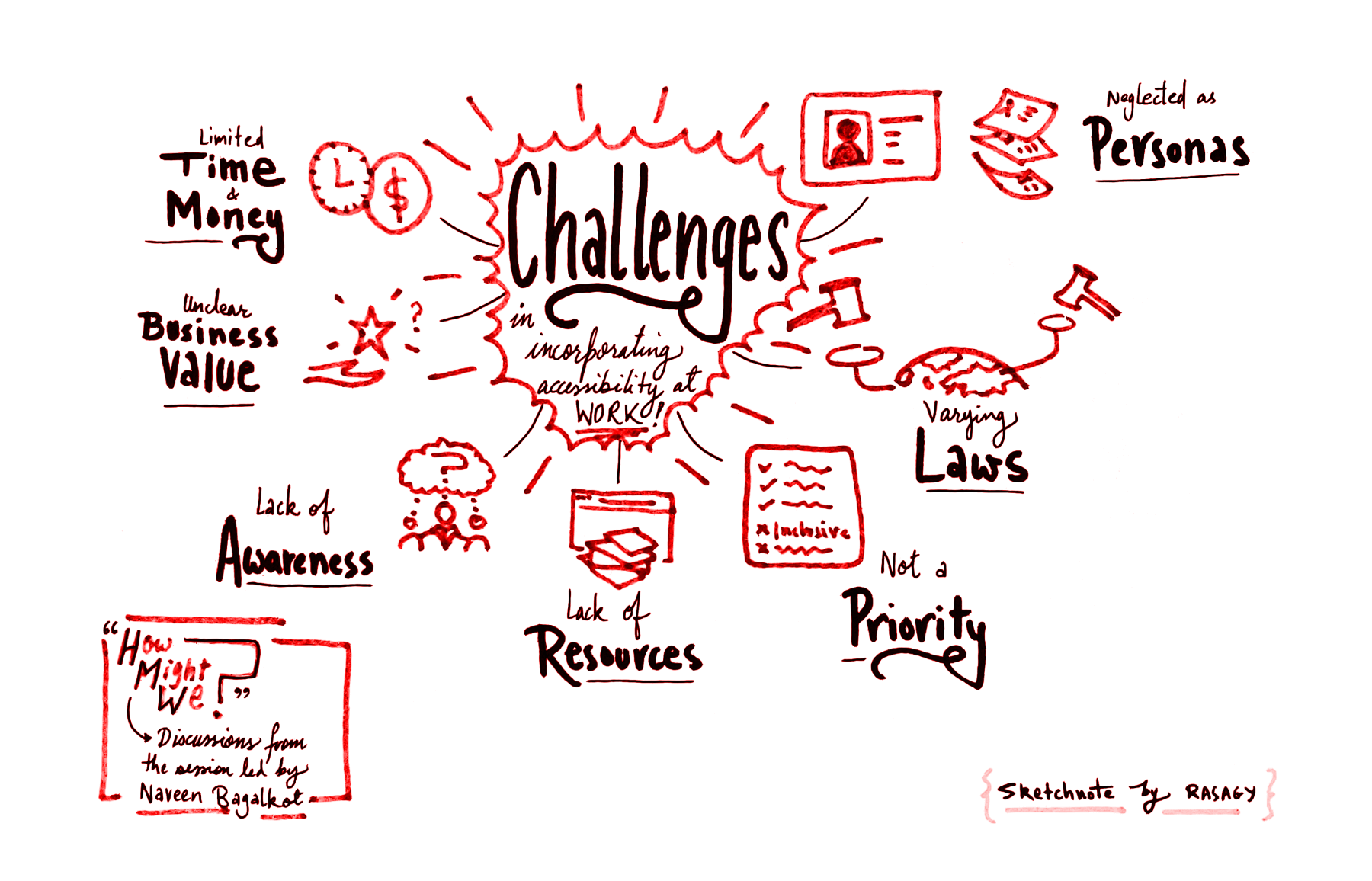 Next, we split into two groups, one discussing policy improvements and one mapping challenges & opportunities when building accessible digital platforms. I was in the latter (along with Pranav, Prasanna, Anjeli, Akash, Sanjivanee & others) led by Naveen Bagalkot.
We summarized how lack of awareness & unclear business impact often led to pushback on time & resources available. More efforts in documenting business impact as case studies, more open source frameworks & robust methods to evaluate accessibility are needed.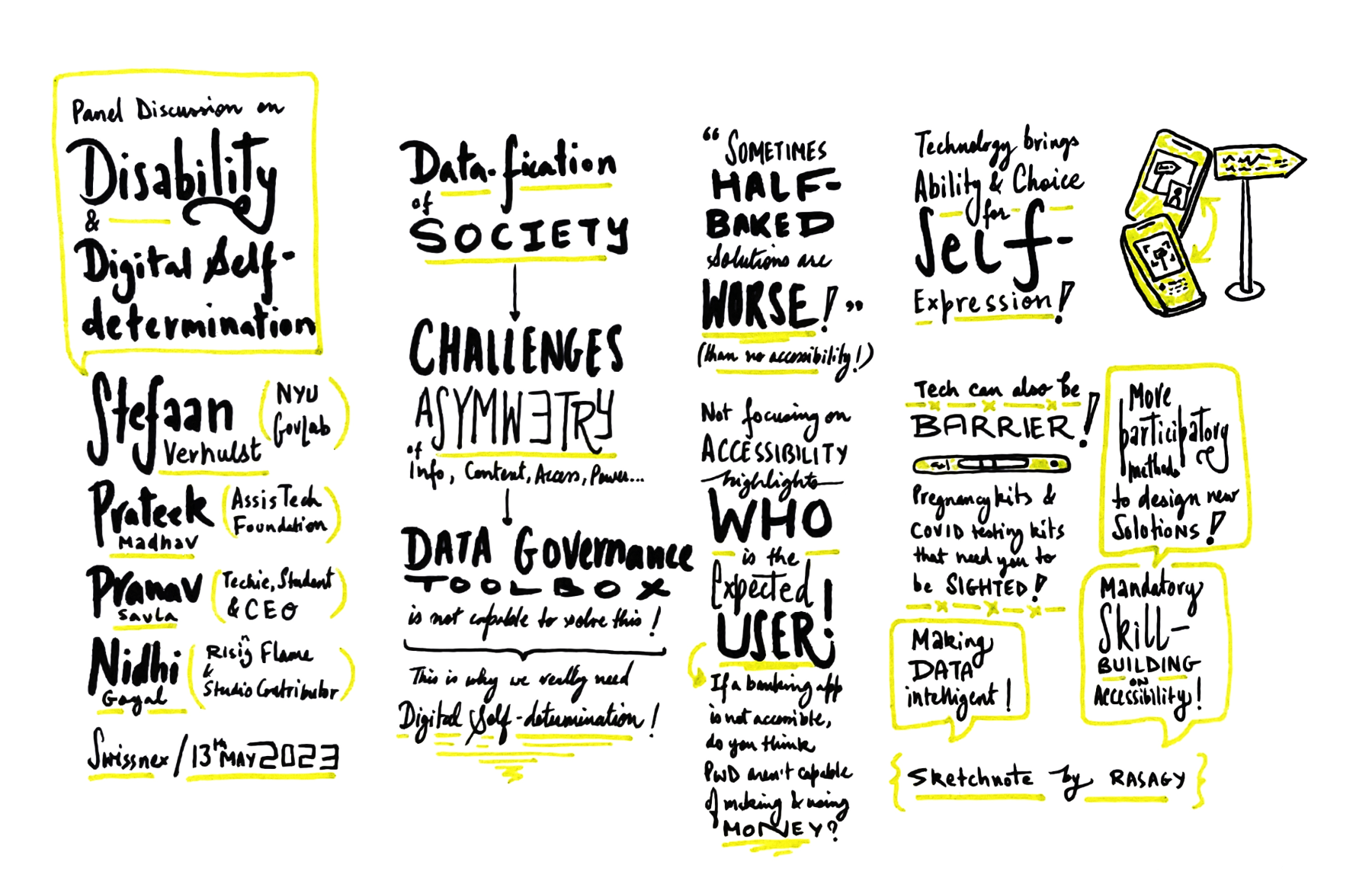 The day ended with a panel with Stefaan, Prateek, Pranav & Nidhi, hosted by Padmini. The panel highlighted how more data-fication of society will widen the gap & increase challenges for PwD. Technology has a crucial role to play: it can both empower & create barriers for PwD.
Looking forward to seeing more reflections & frameworks emerge from this initiative!
Update: You can watch a video of the final discussion on Youtube.